Who reads this blog? This May will begin "Write Away's" twelfth year, so I'm curious about its audience.  Some subscribers have been with me almost the full time.  The site has never gone viral but its readers seem to be loyal. Few have unsubscribed while visitor numbers grow.  On occasion, an individual leaves a comment, but largely, the audience is silent. When I stopped writing a daily blog two years ago, no one seemed to notice, though one person did offer the pieces had grown longer.
Lately, I've been considering reducing the blogs to one a week.  I'd like to make time to write some short stories. But I enjoy creating blogs so I'm torn. I wonder if anyone would notice if I made the change?
Examining the Google graphics about those who find my site, I know most aren't subscribers.  I'm not sure what wind blows them to my island. Facebook isn't a significant source nor any of my other platforms. They come to me from far-reaching places.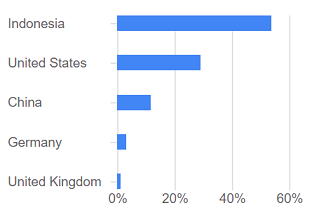 The majority are from Indonesia. They've been with me for a while, so I know it isn't Google's error. What attracts them to the thoughts of a woman they've never met, I wonder? Readers from the  United States are my second largest demographic.  China's numbers have grown a bit. The Russians have abandoned me., and I'm grateful to be rid of their mischief.  
After so many years of blog writing, I realize I have been negligent not to wonder about my guests. I'd like to know more now.  How do I go about it?  I hate surveys and never answer those sent to me. Would an open invitation asking them to tell me something about themselves work? If so, consider this to be that invitation.  What brings you here, readers?   
Like a note in a bottle, I cast this request into the web's sea.  Will I hear from anyone?  Or will my answer be the thrum of silence?